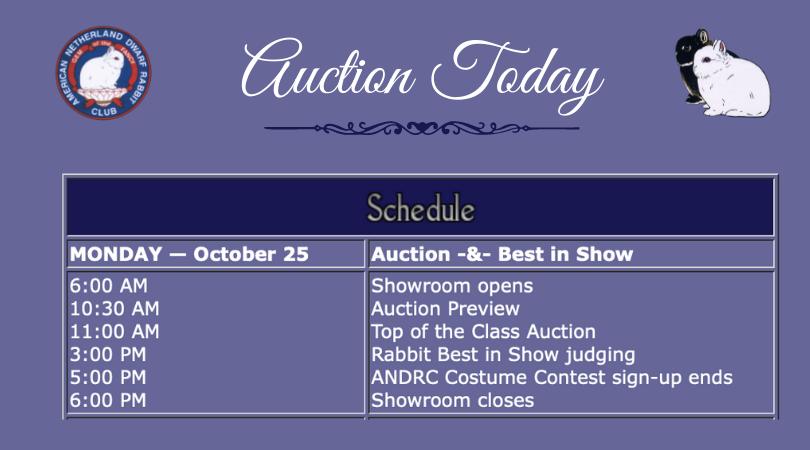 NETHERLAND  DWARF  ENTRIES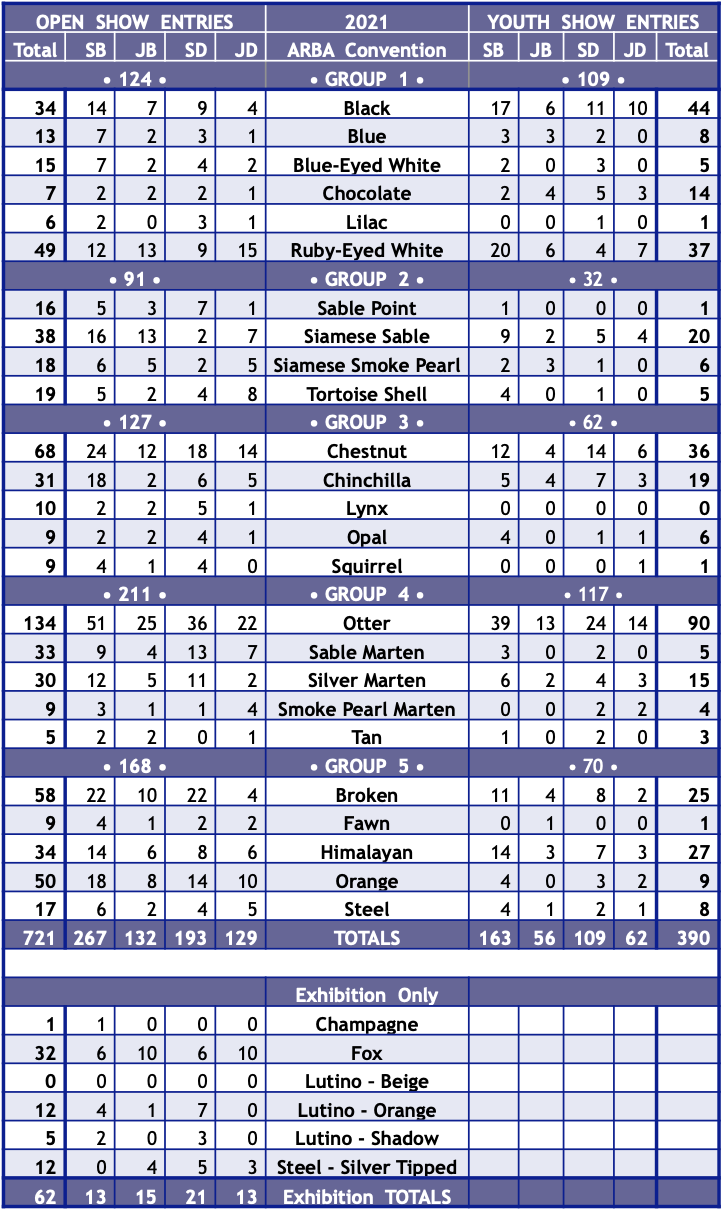 NETHERLAND  DWARF  AUCTION  CONSIGNMENTS

Visit our AUCTION page:    

AUCTION  QUESTIONS? 

 LINKS  to  ADDITIONAL  CONVENTION  INFORMATION

Official 2021 ARBA Convention Website

Crossroads Rabbit & Cavy
Shows Facebook Page

Facebook:  General
Sales & Transport Group

 

Facebook:  Netherland Dwarf
Sales & Transport Group

SUNDAY — October 24

JUDGING  BEGINS

6:00 AM
8:00 AM
9:00 AM
10:00 PM

Showroom opens
OPEN judging begins
YOUTH judging begins
Showroom closes

MONDAY — October 25

JUDGING  CONTINUES

6:00 AM
7:00 AM
10:30 AM
11:00 AM
3:00 PM
5:00 PM
6:00 PM

Showroom opens
Judging continues
Auction Preview
Top of the Class Auction 
Rabbit Best in Show judging
ANDRC Costume Contest sign-up ends
Showroom closes

TUESDAY — October 26

PRESENTATIONS & MEETINGS

7:00 AM
8:00 AM
10:00 AM—11:30AM
12:00 Noon
1:00 PM
3:00—5:00 PM
6:00 PM
6:00 PM
6:45 PM 

Showroom opens
Rabbit COD Presentations begin
ANDRC Membership Meeting [Room W3]
ANDRC Youth Costume Contest 
ARBA General Membership Meeting [W1]
USDA Veterinarian available
Showroom closes
ANDRC Awards Banquet room opens
ANDRC Awards Banquet buffet begins
WEDNESDAY — October 27
CHECK-OUT  — Don't be Late
6:00 AM
7:00 AM


12:00 PM

Showroom opens
Release of animals begins
Showroom closes

Please √ back

Additional info will be added as available

ARBA Schedule 

Additional details available:    


VENUE
KENTUCKY  EXPOSITION  CENTER

937 Phillips Lane, Louisville, KY  40209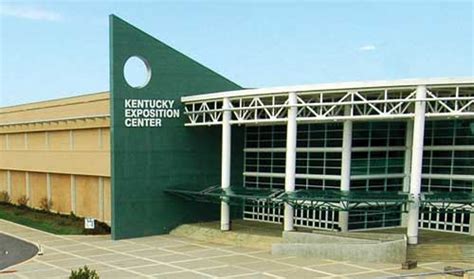 OPEN  JUDGES

YOUTH  JUDGES 

Michael Franke  [TX]
Pam Jones  [MI]
Michelle Wojcik  [WI]


Doug Covert  [MI]
Everett Hopper  [PA]

SHOW  COMMITTEE

QUESTIONS  E-MAIL:
jeremy.r.collins@gmail.com

Chairman & Open Superintendent
Youth Superintendent
Breed Secretary
Banquet & Awards

Jeremy Collins
Jodi Adams
Janet Forrest
Gary & Susan Smith
ANDRC  AWARDS  BANQUET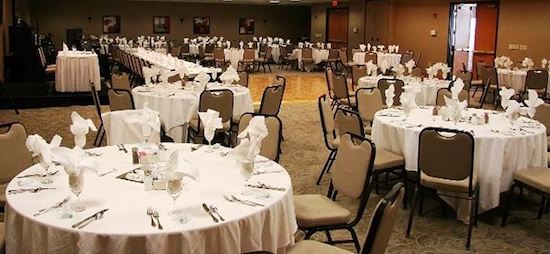 WHERE

WHEN 

Hilton Garden Inn Airport
• Triple Crown Ballroom •
2735 Crittenden Drive
Louisville, KY  40209

Tuesday, October 26
Doors open @ 6:00 PM
Buffet @ 6:45 • Awards to follow
Cocktails available from hotel bar 

MENU

• Southern Style Fried Chicken
• Penne Pasta w/sun-dried tomatoes
& artichokes in white wine sauce
• Mixed Garden Salad w/assorted dressings
• American Potato Salad
• Slow Cooked Baked Beans
• Southern Style Green Beans
• Cornbread
• Gourmet Cookies  

PRICE 

RESERVATIONS 

 $37 per Adult
$15 per Youth, ages 3-12 

 MUST be made in advance —&—
 be RECEIVED by October 17 

PAYMENT  BY:

PAYMENT  LINK: 

PAYPAL — PLEASE use
"sending to a friend" ONLY 

 

QUESTIONS ?

naturesnook@frontier.com
call/text  828.399.0050 


OUR  AWARD  SPONSORS  —  Thank You!
These generous sponsors donated to fund the 2020 National Show awards. With the 2020 ANDRC National, 2020 ARBA Convention and 2021 ANDRC National canceled, their donations have been retained in reserve for the next scheduled National or Convention event.